The Seven Stars Tavern, 2nd Street, Baltimore, 1819 Birth place of Odd Fellowship in America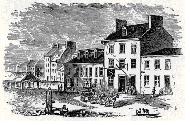 History of The Grand Lodge of Georgia.
Alvin N. Miller was the first Noble Grand of the first Lodge instituted in Georgia and the first Grand Master of the Grand Lodge.
He was born in New York in 1814 and came to Savannah in 1835. He spent most of his life as a Sea Captain, working out of the port of Savannah. He met four other sea captains here who belonged to the Order and they so impressed him, that in late 1841 he joined Enterprise Lodge #36 of New York city. When he returned to Savannah, he, with the other four brothers, applied for a Dispensation for Oglethorpe Lodge #1. These brothers, Samuel Courtney, W.H. Keckley, William Sewell Jr, James Reed, and Alvin Adams became the charter members of Oglethorpe #1 duly instituted by District Deputy Grand Sire, Albert Case, of South Carolina on March 3, 1842.
This first charter and the next four issued for the state of Georgia were issued by the Grand Lodge of the United states and later this name was changed to the Sovereign Grand Lodge. Brother Miller worked very hard for the order and his diligent work helped lay the foundation that we work off of today. When he retired from the sea, he established a large foundry and machine shop which he operated for a number of years. He served the city of Savannah for a number of years as an Alderman and as Superintendent of the waterworks. He was holding the position of Superintendent at the time of his death March 24, 1889.
He saw the growth of Odd Fellowship in Savannah as other Lodges were formed during his life time:
Live Oak #3 Instituted February 1, 1843. DeKalb #9 Instituted February 15, 1845,
Haupt #58 Instituted January 14, 1869
Brother Miller was very instrumental in getting the Grand Lodge of Georgia chartered. On November 13, 1843 Three Lodges met in Savannah for the purpose of instituting a Grand Lodge. The charter Lodges were, Oglethorpe # 1, Franklin #2 Live Oak #3. Two other Lodges had been instituted and were working but did not take part in the organization. They were Sylvan #4 and United Brothers #5. District Deputy Grand Sire Albert Case of South Carolina did the institution.
History of a beloved Grand Master of The Grand Lodge of Georgia.
Elisha Parsons was initiated in Oglethorpe Lodge, No. 1, in April, 1842. Withdrawing from Oglethorpe Lodge, he was the originator of Live Oak Lodge, No. 3, which was instituted February 1st, 1843, and was elected its first Noble Grand. He was one of the original seven charter members to the Grand Lodge of Georgia, November 13th, 1843, at which time he was elected Grand Warden. At the Grand Lodge session of August, 1844, he was elected Grand Representative to the Grand Lodge of the United States. While attending the session of the Grand Body in Baltimore in September of that year, he was appointed by Grand Sire Hopkins Deputy Grand Sire for the district of Georgia and Florida. In 1849 he was elected Grand Master of Georgia. Brother Parsons has been an active worker in Odd Fellowship in this jurisdiction, and has been conspicuous at the sessions of the Grand Lodge.
Brother Parsons was born in Northhamton, Massachusetts, November 29, 1806, and died in Savannah, August 21, 1889; for more than four score years he had been a worthy citizen wherever he lived, and a practical working Odd Fellow for forty-seven years. As a man and a citizen, he was firm in his opinions; as an Odd Fellow he firmly held to the principles of the Order he loved so well. By an unanimous resolution his picture was ordered placed in the Proceedings of the session of the Grand Lodge of 1887. Brother Parsons was a leader whom had an impact on the city of Savannah and his District as an Odd Fellow.